Suu Balm Rapid Itch Relief Moisturiser is a dual benefit skin care product for deep moisturisation and rapid itch relief. It is designed for anybody with dry, itchy and sensitive skin to provide rapid itch relief and to help increase the frequency of moisturising. Breaking the itch-scratch cycle will help prevent further damage to the skin from scratching.
For eczema-prone and sensitive skin

Relieves itch within 5 minutes

5 types of skin-identical ceramides to replenish skin barrier

Cooling and non-sticky

Paraben, preservative and fragrance-free
Suu Balm contains a specific ingredient to provide rapid itch relief – menthol – which gives a fresh, cooling sensation on the skin to replace the tormenting itch, giving you relief in minutes. At the same time, Ceramides help in restoring the skin's moisture.
Menthol for fast, cooling itch relief and Ceramides to restore skin moisture.

The absence of preservatives, parabens and fragrances makes this product suitable for all skin types.
Water, Cetyl Alcohol, Butylene Glycol, Sodium Lauroyl Methyl Isethionate, Stearyl Alcohol, Hydroxyacetophenone, Caprylic/Capric Triglyceride, Menthol, Caprylyl Glycol, Lactic Acid, Butyrospermum Parkii (Shea Butter), Betaine, Sodium Hyaluronate
Use when showering or bathing, daily or more often if needed. Apply to the body to gently cleanse, and then rinse off. Do not use it if you are allergic to any of the ingredients. For best results, keep your showers short and do not use water that's too hot. After showering, pat your skin dry and apply your Suu Balm Itch Relief Moisturiser to body regions with itch or dryness.
View full details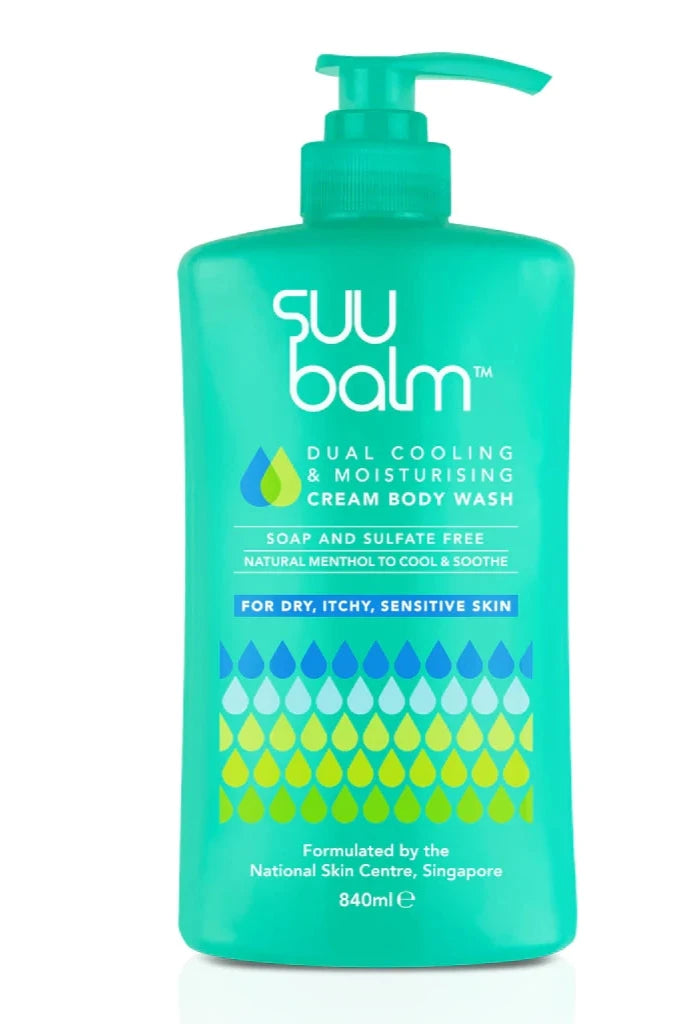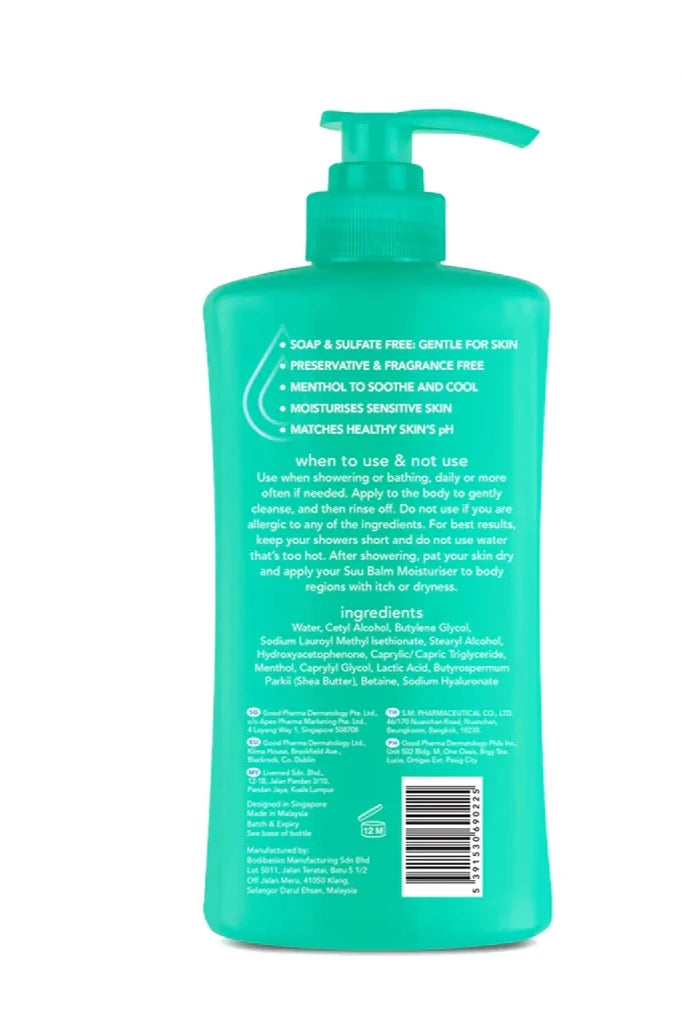 "I Bring Suu Balm with me everywhere I go. I love the cooling feeling- It stops my itch. I used to scratch till my skin breaks but not anymore because of Suu Balm. Love it so much. Thank you Suu Balm."
Jess Smith
Clean & Natural
Cleanse and polish away the dirt, sweat, and oil that build up on your face without drying it out.
Smooth and renew
Reduce the look of fine lines while protecting your skin from pesky environmental damage.